Oman is situated in the southeastern part of the Arabian Peninsula. Surrounded by the sea on two sides, it jointly borders Saudi Arabia on the west, Yemen to the south, and the United Arab Emirates to the north. A 15 hour flight from New York City or a quick one hour flight will bring you right into Muscat where you will find yourself ready to kick off an unforgettable Arabian experience that will stay with you forever. Let me preface this : Oman is not Dubai. In fact, many of the locals we spoke to interestingly made note of how hard it is trying to not become the next UAE. Keeping the cultural distinction, nature intact along with mild crowds, it's a gem hidden in the middle east that we were lucky enough to stumble on.
In Oman, you'll find desert havens enveloped between mountains. Driving through the rocky countryside, it's easy to stumble upon uncrowded spots dotted with luxurious resorts and hotels. A perfect recipe for anyone looking to relax and unwind between a little bit of adventure. So go on, take a dive! Find yourself in the midst of dazzling souks and superb seafood, white sand beaches and warm waters. All the while be blessed with a unique, natural and enviable beauty. Need we say more!?
And this is your ultimate 7-day Oman route guide. Enjoy!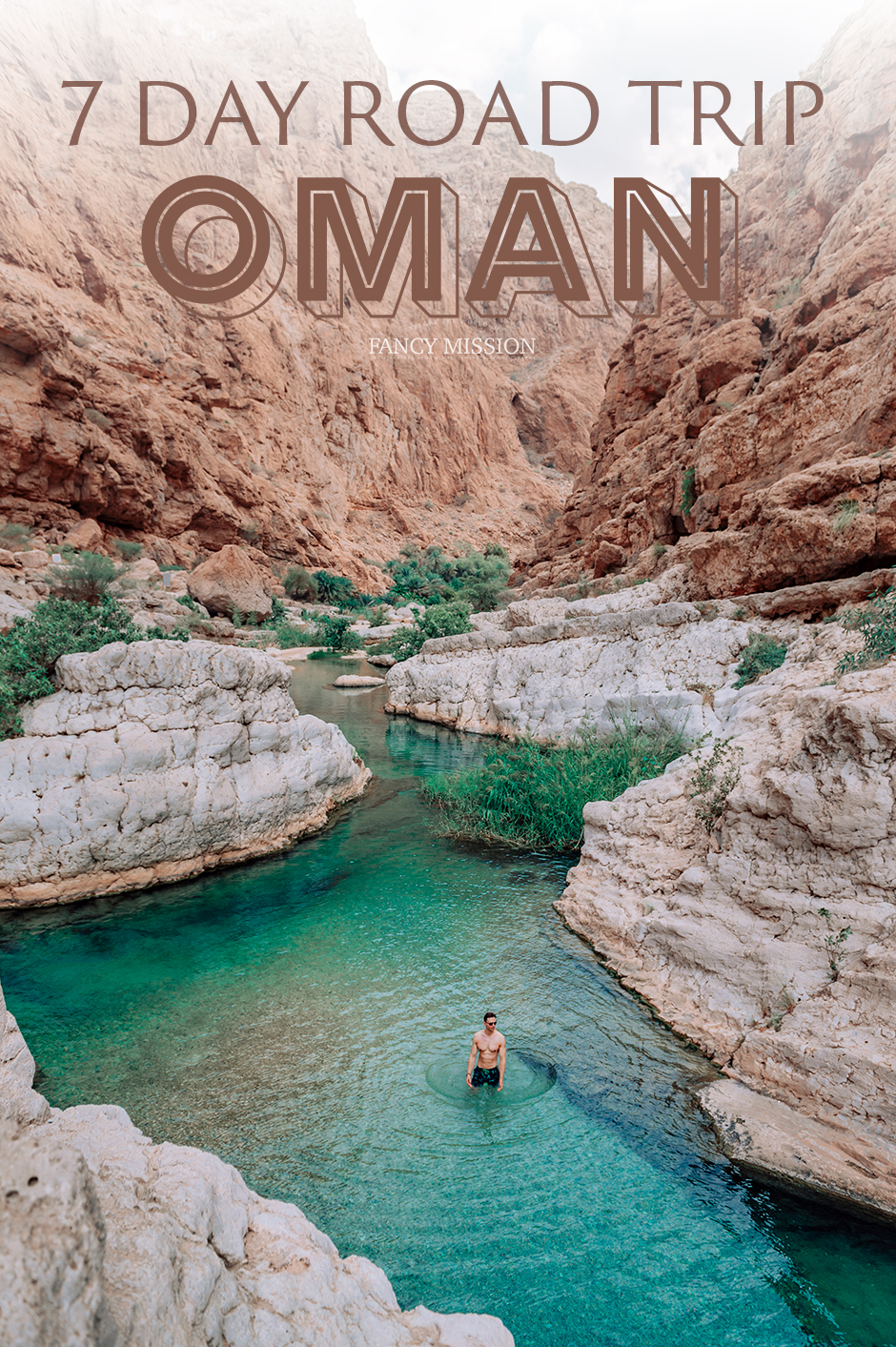 Trip planning was probably one of the easiest encounters we had once we arrived. Since we intended to stay for a week, but we're just not sure how we wanted to spend the middle few days, we left it open and thankfully, it was easy enough to finalize our itinerary once we arrived. The country is completely developed with fantastic roads/highways and infrastructure. Most people we asked for advice were able to chat in English and their helpful smiles made us feel warm and welcome. It's also one of the cleanest countries we had visited, and certainly one of the safest!
This 7-day route will take you around the best highlights of Oman.  An Instagram must see:
Day 1: Arriving at Muscat
Be dazzled the minute you arrive in Muscat. The airport is brand new and the earthy interior design gives you a great prelude to what is waiting outside. Customs is a breeze and the officials are quick to welcome you with a smile. From the airport you can rent a car, that you can totally do it since Oman is one of the easiest places to drive yourself. If you are planning on visiting desert area on your own, we would strongly recommend getting a 4X4 SUV that will get you through the dunes (hopefully) in no time.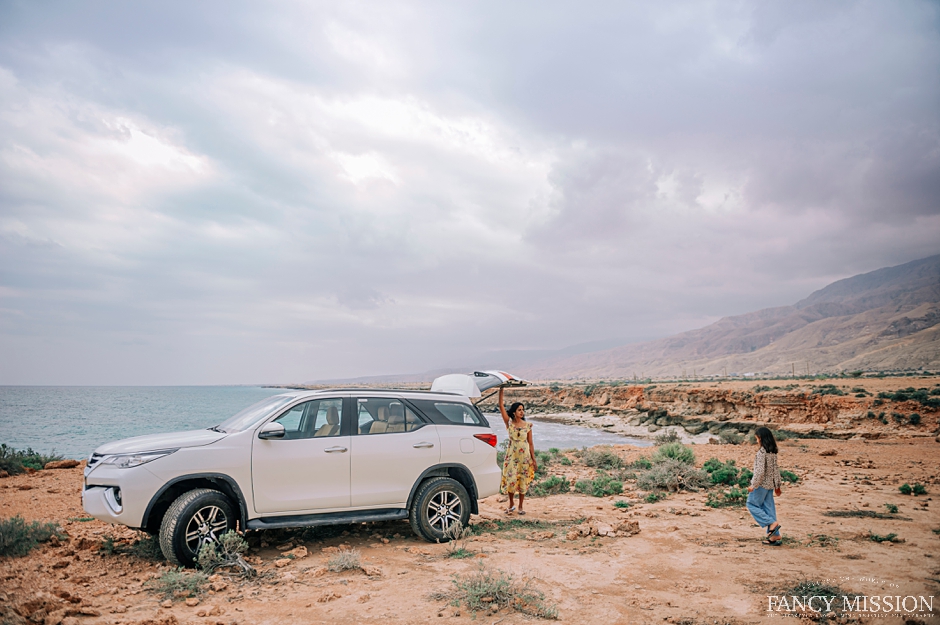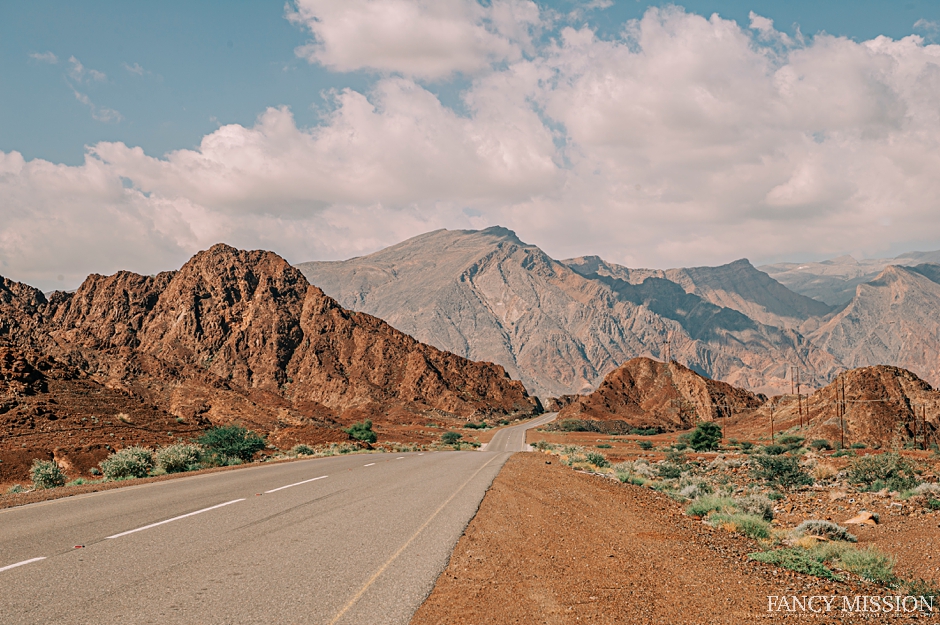 On the first day we only recommend to relax at one of the many hotels available in Muscat. We stayed at the Hilton Al Khuwair and their rooftop pool is a great place to start after your flight. Enjoy gorgeous mountains looming in the background amid the sunset hues!

Day 2 – Muscat to Sur
After relaxing day by the pool a day before, drive down the route along the coastline. This will be an easy 120-minute drive, all highway. Feel free to pull over and take a break along the way. There are some other points to enjoy before you arrive in city of Sur. We recommend to visit:
Bimmah Sinkhole (Hawiyat Najm Park)
Just an hour and a half from the capital, the magnificent Bimmah sinkhole can be found filled with a mix of freshwater and sea water, giving it a stunning turquoise tint. A popular swimming spot, locals believe that the area was formed when a meteor crashed into the surface. Diving is prohibited, but don't be surprised if you see a local attempting the 65 feet dive!
A popular outdoor attraction of which the main attraction is the waterfall. One tip we can give is to be there right the minute it opens to avoid crowds as it can be pretty busy. Getting to the waterfall is in itself a grand adventure. You have to embark on the first stage by taking a small rowboat to the opposite end of the small river. From here on, make sure you have hiking shoes on! The hike itself leads the way through mountains and valleys which will awe you in every way imaginable. Do you ever have the feeling of how miniscule we are in comparison to nature? Well, be prepared to have that feeling here.
The pathway is marked so you don't lose the trail. Keep your eyes open for the arrows marked on stone boulders. Once you arrive to the final point, you will have to swim three freshwater pools to finally get to the waterfall. The gleaming turquoise water is a sight to behold. This one venture is every bit worth your time!






Once you arrive at Sur you must watch their sunset  – Absolutely breath taking. See panorama shot below!

Day 3 – 4: Wahiba Sands, Desert Days
Today you will drive from Sur, and follow your way to the desert camp in the Wahiba Sands. Most of the camps can be reached by driving a 4×4 yourself but you may also ask your hotel to arrange a pick-up from Bidiyah. If you are planning to drive yourself, you must deflate your tires a bit at one of the local shops right before you enter the desert. Also, make sure you give yourself at least two nights stay in the desert to explore the area by car or camel, and to try dune bashing, campfire at night or just let yourself live between the dunes.
Fun fact:
The desert was our favorite part of Oman adventure. AND If you want to camp beneath the night sky go and stay at: 1000 Nights Camp













Day 5: Nizwa
From Bidiyah, drive to the historical town called Nizwa. It was named the 'Capital of Islamic Culture' in 2013, and it's a popular tourist destination.
Once you come to Nizwa you must see one of Oman's oldest forts, Nizwa Fort and wander around at Nizwa Souq located just outside of the fort. Nizwa fort is known for its cylindrical shape and is the biggest fort tower in Oman. Nizwa souq is one of the oldest souqs in the country known for its handicrafts, agricultural products and local craftsmanship.











Day 6 – 7: Explore Muscat
Muscat is Oman's capital city and home to many amazing experiences. It hosts the impressive Sultan Qaboos Mosque, Muttrah Souq, and the Royal Opera House.
Sultan Qaboos Mosque
The Sultan Qaboos Mosque opened in 2001 and is Oman's main mosque lavishly decorated with elaborate carvings, one of the world's largest Persian carpets and colorful hibiscus flowers. Explore the mosque's courtyards dotted with flowers and fountains and see the holy verses inscribed in the sandstone walls. Non-muslims are welcome to visit the Grand Mosque any day except on Friday mornings during prayer. There is no fee to enter. As this is a place of worship, visitors are asked to remain respectful and wear modest clothing. Men must wear long pants and women are required to wear a headscarf.




Muttrah Souq
Mutrah Souk is one of the oldest marketplaces in the Arab world. This ancient marketplace today features winding alleys of stalls selling antiques, traditional fabrics, aromatic spices and fresh produce.
Tip:
The Mutrah Souk is located by the harbor in the heart of Old Muscat. It's free to enter the souk. Haggling is expected here, but don't expect huge discounts on the goods.
The market is open twice a day: first from early morning until midday and then from late afternoon until late evening. On Fridays, the market only operates in the afternoons. It can be difficult to find a parking spot around the busy marketplace, so come by taxi instead.


Relax by the beach
On the last day take some time for yourself and enjoy the beach, or the pool. Al Bustan Beach is part of Al Bustan Palace, which is one of the most famous and luxurious hotels in Muscat. It also has the best and longest private beach in the country. Between its green gardens and high-quality service, you can enjoy a wide range of activities. For this reason we decided to stay at the Al Bustan Palace, A Ritz-Carlton Hotel before catching our flight back.




Final tips:
Best time to visit Oman
The ideal time to visit Oman is between October and May, with temperatures averaging between 70-85 fahrenheit during the day and 65-75 fahrenheit during the evening. Summer is between June and September featuring warmer and more humid weather conditions. There is little chance of rain in Muscat, though we did experience it on the first day of arrival in November.
Food in Oman
From dates and coffee to rice and grilled meat, these are the top Omani dishes that every visitor must try during their visit to the country.
Getting around in Oman
There's very little public transport in Oman. Buses will can get you between the main towns and cities, but to really see anything of the country you'll need your own transport, either by signing up for a tour, hiring a guide-driver, or getting behind the wheel yourself. To follow this 7-day Oman route guide you will need your own car and a 4×4 in the desert. Renting a 4×4 costs around $700 for 7 days.
Oman Visa
Getting a visa in Oman is super easy. You can apply for a visa here. It will costs you around $13 per visa (from USA). AND It takes anywhere from 1 day to 1 week to receive your visa via email.
Don't miss another post … Oman Instagram Story Posts: Follow Us