Canada is underrated, under-explored, and generally on the lower end of the bar for travel enthusiasts. While Instagram influencers are hiking through Alps and eating their way through fine Spanish jamon, the Canadian Rockies are left unmentioned in the background. Turns out, it's a good thing! Unmentioned also translates to untainted: the world's second largest country opens to landscapes that are free from crowds, grime, and headaches that tourist season inflicts on most well known sites. Instead, here you'll find fresh beauty of nature that can encapsulate your attention for hours. Colors of landscape that make you forget to blink while simultaneously opening your senses so that you can feel you.
Canada is huge! During our trip, we were only able to explore the highlights of British Columbia and Alberta region. To explore it all, you'd probably need about twenty five years. Travel was quite easy due to the highways and major roads, but the distances between sites were long. Still, our 9-day route was an incredible journey which gave us the opportunity to see both the highlights of each region as well as dive in to some hidden gems along the way!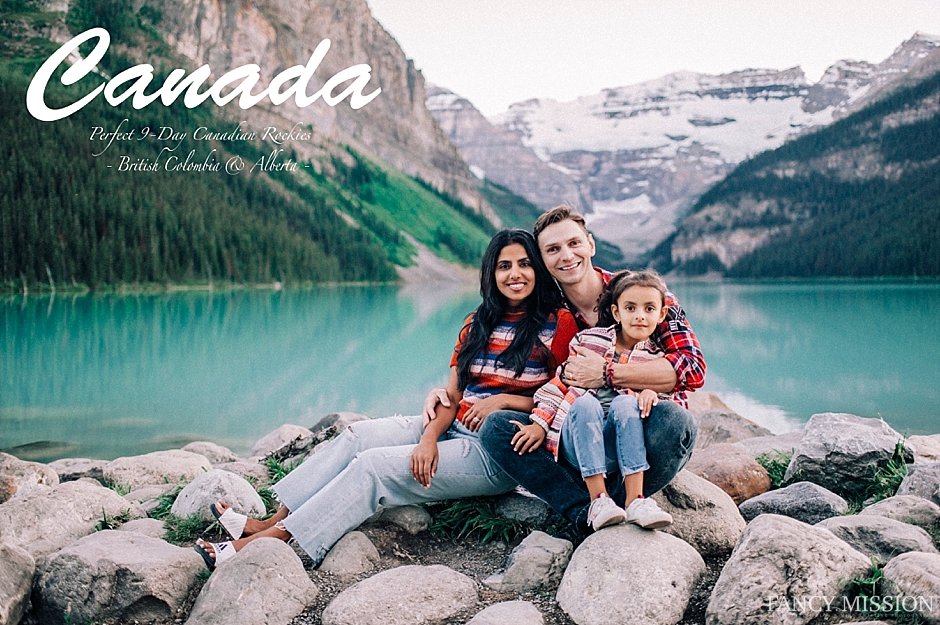 Day 1 – Vancouver Airport Drive towards Jasper National Park
From the airport, this is long drive. A good tip is to split the drive into two parts and aim to the finish line before afternoon of the second day. This will ensure you ample sunlight so you can take in the gorgeous sights along the way.
Day 2 and 3 – Jasper National Park
The car cramping will leave you more than ready to get out of the car and explore Jasper on foot. Stretch those muscles! Jasper is the largest national park in the Canadian Rockies so you will have plenty to see between high mountains, valleys, glaciers, waterfalls, forests, alpine meadows, and of course rivers. There are a number of hiking trails, but if we were to choose the ones that would lead to the 'must see' bits of the park, we'd say go and see:
Athabasca Falls
Tangle Creek
Sunwapta Falls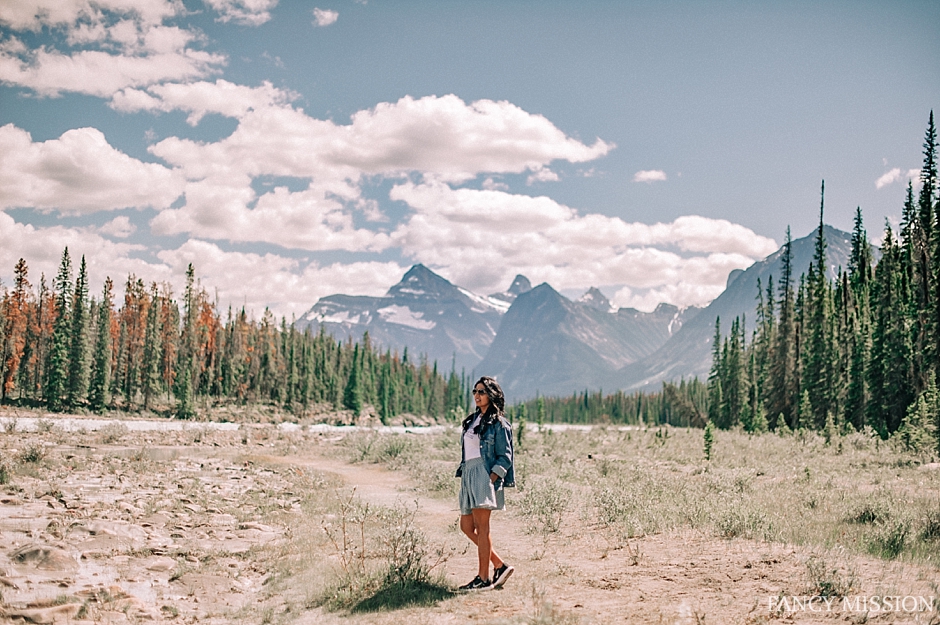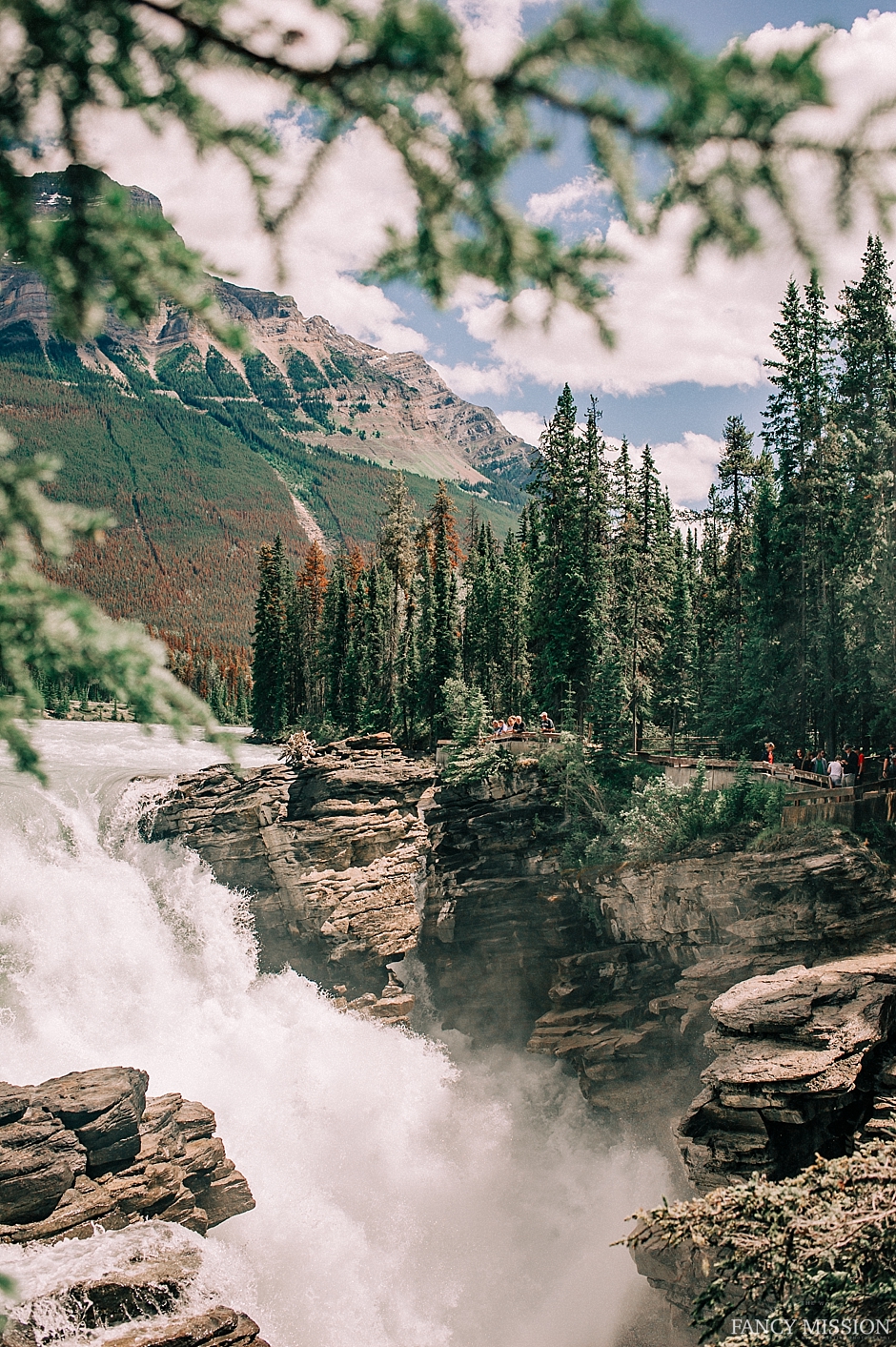 Day 4, 5 and 6 – Banff National Park
This was the most anticipated part of our trip. Like all things novel, we were excited and had a rough idea in our mind of what this would shape out to be. Let me tell you – it all went out the gondola window the minute we stepped foot in that car. It was exhiliratingly scary! One second your legs are turning to jelly, the next second your breath catches in your mouth just by looking at the sheer beauty of what's outside. The mountains are beautiful. It sounds flat, but truly you can't describe the feeling of what you see once you get to the top. All sorts of holy and spiritual thoughts fly in and out of you, and you're closer to damning humanity for destroying what was once beauty everywhere on this planet. You feel clean and again, you.
But before you really head off the deep end, you can take the ride back down (a lot less scary coming down) and have more time to explore the town of Banff itself. The town is quaint, with old time charm. It's little wonder – the city works hard to retain that wonder by limiting development and allowing only residents of Banff to own businesses and shops in Banff. Curtailing corporations and outside companies has allowed to vest into themselves and what they've always been. Win-win!




For three days we explored the magical blue glacier-fed lakes with pictures to prove it below! and of course the town of Banff and village of the famous Lake Louise. During our stay, we did a couple of short hikes, including our favorite Lake Agnes Tea House. But skipped the tea! The lines were long and we decided to spend our time gazing at the gray mountains, greenish hued waters and occasion fishes in the water instead of waiting for a cup of tea.








Also, not to be missed the most picturesque Moraine Lake! See Below. Lake Moraine and Lake Louise are two hot spots…Lake Louise often the preferred. If you are pressed for time and have to choose between the two, go to Lake Moraine instead. You will not be disappointed! Both during the day and dusk, the lake is stunning.







While driving from one place to the next we always felt like stopping on the side of the road and just run through the open space or dip our feet in the turquoise river, or just smell the flowers. And yes we did – many times!



Last but not least, we must mention the Natural Hot Springs that are the absolute must before or after a long day. There are many to choose from, we decided to try Lussier Hot Springs that are located about 2.5 hours from Banff.

Day 7 – Emerald Lake + Travel
On the way back to Vancouver, you'll come across Emerald Lake. It's a short drive from Banff National Park so a short stopover is perfect excuse to get out and stretch. Rest your eyes and your toes one more time before the long drive. At Emerald Lake there is a cool little restaurant called Cilantro that had the most heavenly smells wafting out of it. Get early and enjoy a meal between the lake and the mountains.
We decided to drive through Route 1 and Route 97 with a stop at Kelowna town that takes you through wine part of the country with scenic drives before you reach Vancouver.

Day 8 and 9 – Explore Vancouver + Travel Back
On the last two days, we dived in to see what Vancouver was all about. It's reminiscent of a major city (like Boston) set between the most picturesque backdrop. Beach and mountains, yes please! We visited Stanley Park, chilled at the beach, grabbed a quick bite around the corner. And had Tim Hortons for the first time.
On the second day, we had the whole day to spend so we decided to engage in something that would keep us in one place and give enough things of interest to keep our five year old going. The  Capilano Suspension Bridge Park filled those requirements perfectly. We got the nature bit from it while it fulfilled that adventure quest for our daughter. A park filled with treetop adventure sights that is connected by bridges over a deep canyon. Definitely worth the visit!






Hands down, this was one of the most amazing and picturesque vacations! We chose to go during the summer weeks, and have no regrets. Cool nights and warm days were on the forecast for that time. Plus, you can still see snow covered mountains, and travel on the road is very safe. The summer is prime tourist season and there are a ton of restaurants, hotels and shops that are open for business. That being said, Banff is very busy and most hotels will book up months in advance. So if you're particular about where you stay, book early! Once you start, you'll never regret for a second your decision to go here!

Go explore and have fun!