Being home in the last few months due to the pandemic was challenging and not easy for anyone who loves to travel. Most of us are always ready for an adventure, to explore and have some fun in the sun. However, when someone steps in and tells you well you just can't travel because everything is shutting down, this news can be quite devastating. After being patient and feeling like we had waited long enough, we started to seek out places that were slowly accepting travelers. Those locations that were safe, yet had fewer restrictions and rules. Once we researched Aruba, we jumped on it! It's close by, easy entry process, and comes with some of the most beautiful landscapes encapsulated on a tiny island. For a travel hungry family, it seemed perfect!
The island has a lot to offer, a small place with so much diversity. You can drive from one end to the other end of the island under an hour, and come across breathtaking beaches, desert, with tropical greenery around the resorts. Cactus and aloe grow well throughout the Island that adds the wow effect. Some of our favorite places to discover were secluded beaches at Arikok National Park, along with the private island where you fed flamingos. Read on and watch the video for our Aruba Travel Guide, including our favorite places to visit, swimming spots, sandy dunes and so much more…
5+ days recommended
The best time to visit Aruba: January to August – January to March features pleasant weather, but the room prices can soar. The cheapest month to fly to Aruba is August. | (Our Trip took place in February)
Weather in Aruba: Consistent sun and cooling trade winds, making it a year-round destination. | (We had the most amazing weather)
Getting Around Aruba: Rent a car or Taxi | (We rented a Jeep Wrangler… a must to visit Arikok National Park)
Money & Currency: Aruba's currency is the florin, but the US dollar is also widely accepted. Banks also exchange other foreign currency such as Euros. Traveler's checks are widely accepted as well. | (We used credit cards for most purchases)
Languages: Dutch and the local language of Papiamento are the official languages of Aruba, but most Arubans speak English and Spanish. | (We spoke English with everyone)
Nearby Airport: AUA | Queen Beatrix International Airport, is an international airport located in Oranjestad, Aruba.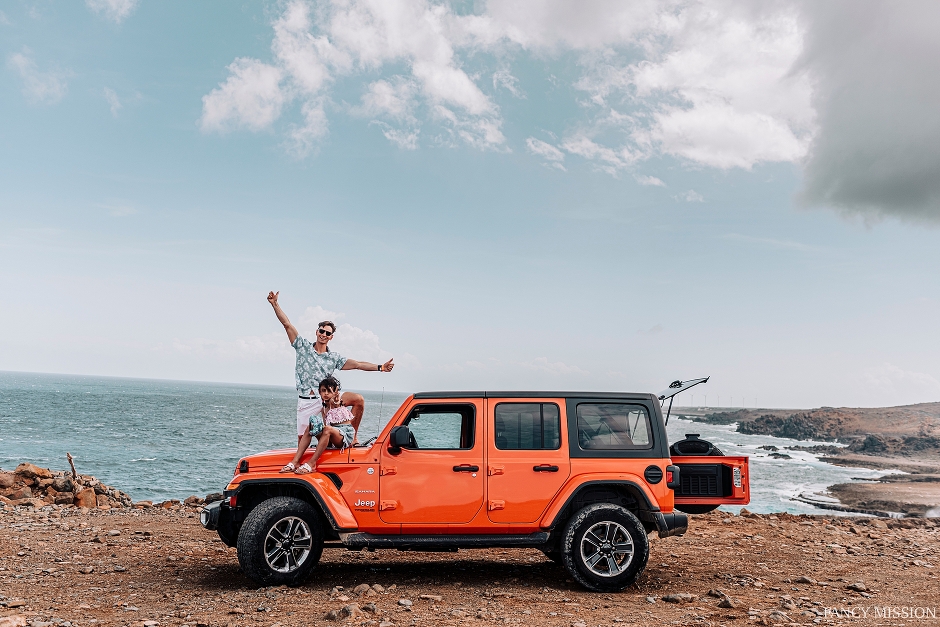 Where We Stayed:
You have a lot of options of hotels, resorts and airbnbs throughout the Island. When we were booking our stay we were looking at many different options, and at the end we decided to choose Renaissance Ocean Suites. The most important and biggest perk of the Renaissance hotel is included and guaranteed access to Renaissance Private Island, which is where the Aruba flamingos are located! A day pass to the island will cost you if you aren't a hotel guest (day passes are $125 per person, and includes lunch and a drink). You can pre-book your passes on their website for day passes. You can do it only for the next day and registration starts at 7 AM. Keep in mind that Day passes are NEVER guaranteed, and if the occupancy of the hotel is higher than 80%, no day passes are available at all. If you don't want to get disappointed not being able to see the flamingos we suggest to book the Renaissance Hotel. The resort is modern and fully-equipped, plus it's located right in downtown Aruba.
What are other great locations to stay in Aruba?
Other best places to stay on Aruba are along the leeward (western) coast, where the waters are calm and warm. Most of the island's hotels can be found on this stretch and there is a good range from luxury resorts which have everything onsite to chic boutiques, perfect for a  hideaway.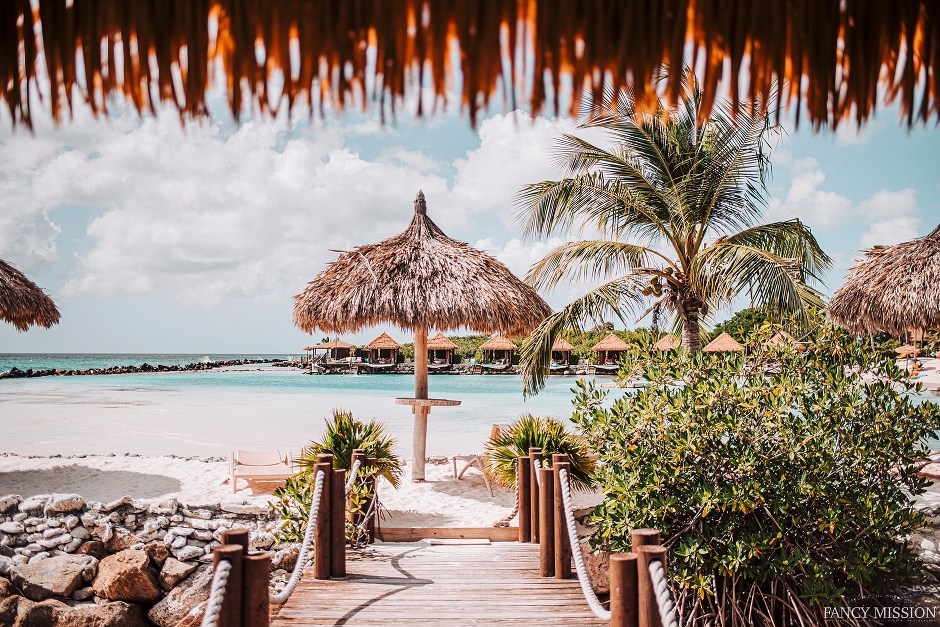 Top Sights in Aruba | Where To Go:
Renaissance Island – Personally we think that this is Aruba's most stunning beach, a true tropical oasis. You can watch flamingos roaming around the stunning island, relax inside a private cabana or simply take in the warm sun while enjoying a drink or dinner at the restaurant.
You may also try one of many water activities that are included on the island like snorkeling, kayaking, or paddle boarding. This small island is available exclusively to guests of Renaissance Aruba. However, you may attempt to buy a day pass ($125 per person), a little steep but well worth it if you make a day of it. Buy tickets in person at Renaissance Hotel Aruba, and keep in mind there are limited quantities. Once you have your tickets you can go on a boat (they run every 15 minutes) or if you're a hotel guest, you will hop on complimentary water taxis to escape to this small island.




Eagle Beach & Palm Beach – Fofoti Trees – The famous Fofoti (Watapana) tree (located on the public Eagle Beach) is Aruba's natural compass, always pointing in a southwestern direction due to the trade winds that blow across the island from the north-east. AND while most Caribbean islands are known for their palm trees, Aruba is also known for the unique Fofoti Tree. We had a chance to experience the trees at sunset and sunrise and it was truly magical.
Which is better Eagle Beach or Palm Beach Aruba? Eagle Beach is more private, but the water is rough. Palm Beach has calmer water, but the beach is louder and more crowded because of the high rise resorts. On Palm Beach, there are more activities, such as water sports and exursions. Also, the Palm Beach strip has more restaurants and shops. One of our favorite restaurant on the palm beach strip was Lola Taqueria.

Arikok National Park – This beautiful National Park in Aruba takes up about 20% of the island. The most convenient way to visit the park is to rent your own 4X4 vehicle and enjoy gorgeous rugged terrain, desert-like hills filled with cactuses, a breathtaking coastline, sand dunes and caves. Exploring the park it's a memorable journey offering many unique sites. All activities can be enjoyed and explored either on your own or through guided tours.



Mangel Halto – Mangel Halto Beach is a secluded beach that is located on the southeast coast of Aruba. But we did noticed that many locals used the beach for snorkeling and picnicking. The beach is also very different from many other beaches on the island, because of the forest surrounding it with cactuses! You will also find a beautiful rustic stairwell below that is located just off the road before Mangel Halto, here!



Explore the colorful downtown – a place for shopping, street walking and local town experience. Scout luxury brands, fun boutiques, souvenirs and much more in the downtown area when you need a break from the beach!



Top Sights in Aruba | What To Do:
Snorkeling – Snorkel waters close to shore that are home to shallow reefs!
Remote beaches – Rent a 4×4 & head for secluded coves surrounded by limestone cliffs carved into natural bridges. Just keep in mind that some waters are rough and dangerous to swim.
Feed the flamingos – as we mentioned above, Renaissance Island is the place to go if you want to check this off your bucket list. You can buy a day pass at the hotel or on their website here, but keep in mind tickets are limited and will sell out almost immediately. If you want a guarantee of seeing the island and the flamingos in person, book at least one night at the Renaissance resort! Once you arrive at the island, there is plenty to do and the whole day will fly by in no time and you will wish to come back again the next day. We promise!

Go paddle-boarding or kayaking – Aruba's coastline offers a perfect standup paddle boarding (SUP) it's an experience from a new perspective. Many resorts and water sports companies along Palm Beach, Fisherman's Huts, and Eagle Beach offer paddle board rentals.

Visit Arikok National Park – we spent a few hours driving and exploring the park on foot, and with our Jeep Wrangler. We highly recommend renting a 4X4 SUV before heading to the park as some areas are very rough to drive and a regular car will not get you through it. Our favorite highlights at the park were Boca Prins and the Natural Pool with a great location for swimming. Quick note: park starts closing around 3pm so head over before noon to make sure you can see both sides of the park. Water and sunblock are essential during the day.

Watch Sunset at California Sand Dunes – welcome to the northern tip of Aruba… the wild side! Wind and waves pound the landscape which created endless sand dunes and enormous boulders. A network of trails crisscrosses the area, eventually arriving at the sea. This is a romantic sunset spot – but don't linger, as darkness comes quickly. Quick note: Driving on the dunes is prohibited, so leave your car in one of the parking areas that are visible from the lighthouse road.



5 Quick Tips For Your First Trip To Aruba
What to pack? Aruba is hot and humid, but in keep in mind that there is always a steady breeze in Aruba, making the warm weather bearable. When it comes to clothes we suggest sticking to clothes that breathe, and of course, don't forget your swimwear!
No need to buy water! The tap water in Aruba is of high quality and perfectly safe to drink.
Wearing sunscreen is absolutely necessary, so come prepared.
You don't have to stay at a resort to have a good time.
You'll most likely want to rent a car.